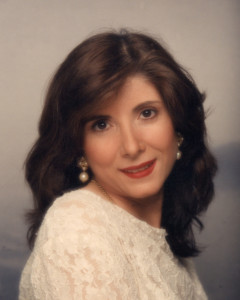 Swiggtalk: How did you develop your love of writing? Was there a spark or mentor that helped?
Mary Feliciani: When I was in grade eight we had a language class on rotary. The teacher who taught the class expected that we wrote every period, and for every minute that we were there. We didn't have any reading assignments for this particular class—only writing. It was during this time period that I discovered that I enjoyed writing and that some of my peers liked reading what I wrote. I didn't have a mentor per se but I did have some role models around me who were good writers; my grandmother, whose letters from Italy read like poetry, and my brother who was in a band at the time and wrote poetry/song lyrics.
Swiggtalk: Most writers are voracious readers. What is your favorite book and why?
Mary Feliciani: In my twenties I enjoyed reading whodunit mysteries. Agatha Christie novels were my favourite, followed by Ellery Queen mysteries written by Daniel Nathan and Frederic Dannay. I also read Nero Wolfe novels penned by Rex Stout. My favourite books would be Murder on the Orient Express and And Then There Were None. The murder plots for both of these books were unique for me at the time.
In the 80's Steven King was my favourite author and Dead Zone was my favourite book written by him.
Today, I read books that are usually recommended by friends. Since January, I've read three of Sidney Sheldon's novels: Master of the Game, If Tomorrow Comes and The Doomsday Conspiracy. I also read The Help by Kathryn Stockett.
The Help was given to me by a friend for my birthday. In the larger picture, the book depicts the racial tension of life in the Southern, US in the 1960's and how coloured maids had a very motherly, loving relationship with the children that they helped raise. The children were colour blind and sometimes loved the maids more than their own mothers. These relationships developed amid, and, despite the prejudice climate in the adult world.
I can relate to the Skeeter character not only because she was a writer, but because she faced a cliquish group of friends who turned against her for what she believed in. As a teacher, I see parallels between the bullying displayed by children and the bullying done by adults (called harassment in the case of adults). In the long run it is better to stand alone, than it is to be accepted by a particular group, if being accepted means losing your own self-respect or harming someone else.
Swiggtalk: What inspired you to write the book "Humanitarians, Visionaries, Heroes, and You"?
Mary Feliciani: I think that I always had my own little guru inside my head. It would come out once in a while when someone asked for some advice. I didn't necessarily think that I would end up writing about anything that was part of my belief system. Years ago, I saw Mattie Stepanek on Larry King Live, and of course I was totally impressed with his insights. At the same time, it took me back to my own youth and my emotional attachment to Martin Luther King Jr.
I was always consciously aware of the effect his famous speech had on me, but I couldn't remember the age I was, when I first heard the I Have a Dream speech. Age ten, kept gnawing at me, but I had no direct recall about the age. I am happy to say that as I was writing the book, I solved my own mystery. I realized that I was ten years old when Martin Luther King Jr., was assassinated. I must have heard the speech for the first time, at the time that I learned of his death. His powerful words coupled with news clippings of his death must have forever been imbedded in my mind.
It was about this time that I had the book idea. I was reminded that it is in our youth that we are the most idealistic about love, justice and fairness. I thought of other humanitarians that had similar causes. I started to realize that the totality of many voices combined with my own reflections would be a strong force. I also knew that Craig Kielburger had to be one of the voices in the book. He not only exemplifies today's youth, but we're speaking to the same audience (the same age group).
Swiggtalk: Why did you decide to self-publish your book and would you recommend this form of publication to other aspiring writers?
Mary Feliciani: When I was about twenty-one, I wrote my first children's book, The Magic Leaf, while I was attending the University of Toronto at Mississauga campus. I sent the manuscript to three Toronto publishers and waited for a response. All three responded, which I hear isn't always the case. Two of them sent the standard rejection letter to me, and the third said that my story was too moralistic. I thought at the time that it was like winning a lottery. If I was lucky, one of the publishers would think that it was good. But writing isn't about luck—it is about hard work. I continued to study psychology and later became a teacher.
Fast forward a couple of years.
Turning forty was like a cornerstone for me. I revaluated my life and was grateful that I was happy with my career choice, and with my family life and friends, but at the same time, I hadn't done all the things that I thought I could do when I was twenty. I gave it more thought and asked myself what was stopping me? The answer was nothing. I didn't have to ask for anyone's permission to write, and I also didn't need the approval of any particular person or publisher. There was no question that I wanted the book published, so I decide to do it myself.
I spent one whole summer researching self-publishing at one of the Mississauga library branches. I chose do-it-yourself books that were printed in Canada, making sure that I was following Canadian law. I also utilized the Internet for some of my research, taking notes on any information that I could use. The following summer I implemented my plan. I started my own publishing company which is different from other self-published writers who pay a small publisher like me to publish their books. I looked for a book designer, an illustrator and a printer. I had everything in place before September, so all I had to do was email or make decisions about other people's work, after I got back to school.
I would recommend self-publishing to other aspiring writers, keeping in mind that it is more work than first meets the eye. Another recommendation is that you have to see writing as a form of communication and self-expression and not a way to make money. It is good to have a full-time job while you are writing, at least in the beginning. You need to write for the love of it and the gratification that comes from being able to connect to more than one person at a time. Everything else will fall into place.
Swiggtalk: How many books have you published so far and which ones are you most proud of?
Mary Feliciani: I have only published two books. My first book was a children's book, The Magic Leaf, which was published in 2006. It is about a small town boy who learns the value of friendship. The appropriate reading ages would be ages six to ten.
Humanitarians, Visionaries, Heroes, and You was written for an older age group; twelve plus and published in 2012. My goal was to encourage youth towards social responsibility and global citizenship.
I 'm most proud of The Magic Leaf because my research paid off and I was able to publish the book, but when thinking about the book, Humanitarians, Visionaries, Heroes, and You the word honoured comes to mind.
When it came to publishing my second book I had to write to various foundations in order to get photos of the personalities in the book.
Fred Fox, Terry Fox's brother, answered my email himself and gave me Terry's photo. Jeni Stepanek, Mattie's mom, personally responded to my request as well. She gave me the same photo that is on the cover of her own book, Messenger. I was honoured to be given permission to use both of these photos in my book. If nothing else becomes of the book, I will always treasure the two photos.
Swiggtalk: How much time per week do you spend writing?
Mary Feliciani: I write in blocks of time rather than hours per week, mostly during the summer.
Swiggtalk: How do you balance your full-time job as a teacher and your literary work?
Mary Feliciani: I separate the two. My teaching comes first because that is what I do for a living. Writing is what I do when I feel compelled to express myself. The bulk of the writing is done during the summer. My business email is answered after 5:00 p.m. and on weekends, given that I don't have some paperwork from school that is due. Any bright ideas that I might have during the school year, about my writing, I jot down on any random piece of paper and leave it to be improved on, when I have time. One good thing about independent publishing is that you set your own deadlines.
Swiggtalk: What are some of your future literary projects?
Mary Feliciani: I'm glad that you asked. I plan on revisiting The Magic Leaf and turning it into a series. The outlines for the next two books are already written. Both books will be about bullying. I'll be writing the manuscript in a year's time. This summer will be devoted to learning about e-Books.
Swiggtalk: Do you have any advice to give to Swigg Girls who dream of becoming published authors?
Mary Feliciani: Save all of your writing even if you can't see how it can be published today. You can always address that problem later as I did. You can also go back and revamp it as you gain more life experience. In general believe in yourself—I believe in you. I believe in today's youth.